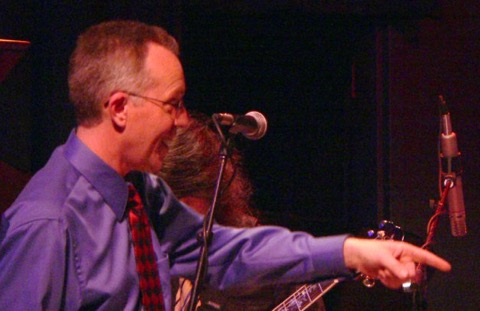 California native
Ted Allen
spent his youth enthusiastically participating in choirs, marching bands and rock bands at high school in Newport Beach and at Pomona College. After completing a masters degree in composition at the Yale School of Music, he worked in the music business in New York City as a composer, arranger and copyist for a diverse clientele that included both the New York City Ballet and Metallica, for whom he orchestrated "Devil Dance" and "Human" for their platinum selling project with the San Francisco Symphony. He is currently in the eighteenth year of his "second career," teaching high school bands and orchestras. His music has been performed by the Pro Arte Chamber Orchestra of Boston, the Mitch Leigh Big Band, the
Nobles of the Mystic Shrine Wind Band,
Big O: the Big Band of Oakland Public School Music Teachers,
San Francisco Choral Artists
, the San Francisco Girls Chorus, the San Jose Choral Project, the New Jersey All State Chorus and numerous high school ensembles. Many of his compositions reflect his California upbringing in their invocation of western musical traditions and history, particularly the violin solos; "Cattle Ranch Moon" and "Vulture in the Canyon" and the vocal works; "Lluvia/El Capotin," and
"Coyote Song/¡Ay Susanita!
" His music is published by Walton Music and Grand Mesa Music.